I'd been writing down Mindmap in my own way although recently Mindmap has spread as publishing about it has been on the increase. So I attended the lecture for Mindmap , on which it made me try to write Mindmap for self-introduction.
I'll put it. My self-introduction is following :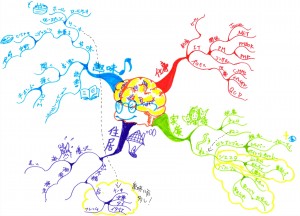 It took more or less 15 minutes to write above. I struggled to come up with my attributes for self-introduction. It was unexpectedly difficult.
A lecturer advised me that I should use empty branch to spread my imagination more and more. At first I should write a branch whether I have no thing to write.
According to him, Human being makes efforts unconsciously because of their desire or instinct to fill the empty. We can use it effectively.
Though I can't realize the instinct, that's natural because I use it unconsciously:-) , I obey the advice and positively write empty branches.
Leave a Reply
You must be logged in to post a comment.